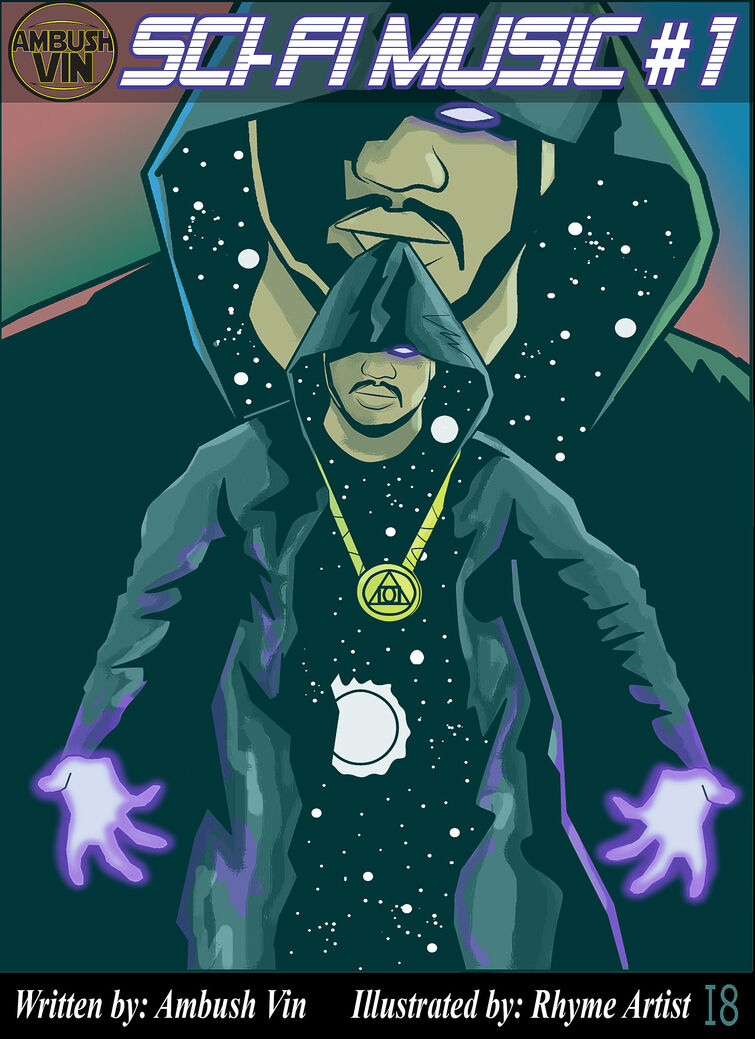 Hi everybody!
My name is Ambush Vin and I am a Sci-Fi Hip-Hop Artist.
I know you're thinking, Sci-Fi Hip-Hop?! What the...
Here's what I mean by Sci-Fi Hip-Hop. But, to make things easier, you guys can just use this cool name that I coined for it: Sci-Fi Music
Anyways, I am REALLY into Science-Fiction! Ever since the Original BSG (Battlestar Galactica), I've been hooked. The thing is, I'm REALLY into Hip-Hop also, I've been rapping since I was 11 years old. I love all Hip-Hop from Boom-Bap to Trap Music!
My inspirations include: Big Daddy Kane, The D.O.C., Redman, Ice Cube, Tech N9ne, Hopsin, T.I., MC Front-a-Lot, 2 Chains, Andre 3000, and Eminem.
Oh, almost forgot...
I love to jot my thoughts down in story form from time-to time also. You can read some of my work here.
So, by now you have to be asking yourself, why in the multiverse is a rapper creating a Wiki on Fandom?
Well...
I have this insane dream of creating a Fandom!
Who wants to be a rapper-only? (yawn!) Here's the thing. All of my content (music, videos, books, comics, trading cards, etc...) all connect to create the Sci-Fi Music canon.
What's a canon without a Wiki?
Use this Sci-Fi Music Wiki as a hack to meet all of the characters that I encountered in the League of Multiverses.
Here, you will also learn:
The History of the Sci-Fi Music canon

The Events and Battles that took place

Scientific Concepts and Dimensions that you never knew existed!

How to Prevent these Events from EVER happening again...
I made the last bullet point bold for a reason.
You see, Spatium - that's my cosmic mentor, and I worked extremely hard to vanquish all of the threats to Time's continuity...
...oh yeah. Right. Forgot to tell you guys.
Time is a place, not a measurement, as we primitive humans believe. I had to learn that the hard way...
...by diving through a wormhole portal that took me to the Time Dimension.
You can hear how that adventure turned out here:
Sci-Fi Music isn't just a Fandom, it's also a guideline and warning, should these events happen again in our future.
It's imperative that humanity is prepared. So, I convinced Spatium to give a small amount of Cosmic Awareness to a few select people who joined our fight to protect the League of Multiverses. The members of this group are known as Scifinatiks.
You will see the Scifinatiks pop-up occasionally in Sci-Fi Music content, ready to help me combat my biggest enemy, the Mastigi.
(You can join our battle against cosmic threats by joining the SciFinatiks HERE!)
I hope you all enjoy the stories of Sci-Fi Music! and welcome to the League of Multiverses!
- Your local Cosmic Enforcer,
Ambush Vin